How do Inspectors Use Quality Control Checklists (QCC)?
Each product inspection is different and has its own specification. So, how do inspectors adapt to the importers' requirements?
A key element for providing the best product report is to be familiar with the product's technical details. That's why it is crucial for our clients to share with us specific information about their products. 
If one of our clients omits important details, they could receive an incomplete inspection report. This could lead to approving a shipment with defects that could have been avoided if the inspector had known the exact characteristics expected from the product.
How can this situation be avoided?
Quality Control Checklists (QCC) takes this issue out of the way. 
Providing your quality control inspectors the quality control checklists (QCC) before the inspection helps them prepare and clarify any question before the service is conducted.
Customizing your checklist to your own requirements will always lead to the most accurate inspection!
Importance of Quality Control Checklists (QCC)
All product inspections follow a strict step-by-step process in order to prevent mistakes. In the rare case that something went wrong, would be mostly due to unclear instructions to the inspectors.
The way our clients customized the instructions will determine the accuracy of the inspection's results, as well as the time and money invested from both sides. 
 For this reason, an inspection checklist must be as clear and detailed as possible, to include all requirements and be easy to follow by the inspectors.
Random Samplings for Inspection
When samples are not randomly chosen, there is a high chance that the report does not represent the quality of the entire shipment. Factory staff can hinder the inspection accuracy if they are allowed to choose which units inspectors will check.
Furthermore, it is key to know the specific number of samples that inspectors need to check. Not knowing the sample size can cause several problematic points:
·      Inspectors will check too many units, which will lengthen the time needed and increase the importer's cost.
·      Inspectors will check too few units, which will not provide transparency across the shipment and defects will go unnoticed.
Effective quality control checklists must include the sampling size for inspection, which is often based on the industry AQL Standard (Acceptance Quality Level):

For example:
You are importing 1,000pcs of POS terminal in Ningbo, China, and have hired an inspector to check "GII" sample size, 80 units. The inspector will refer to your checklist to ensure the sample size required. If the number is not stated, they might mistakenly pull "GI" or 32pcs instead.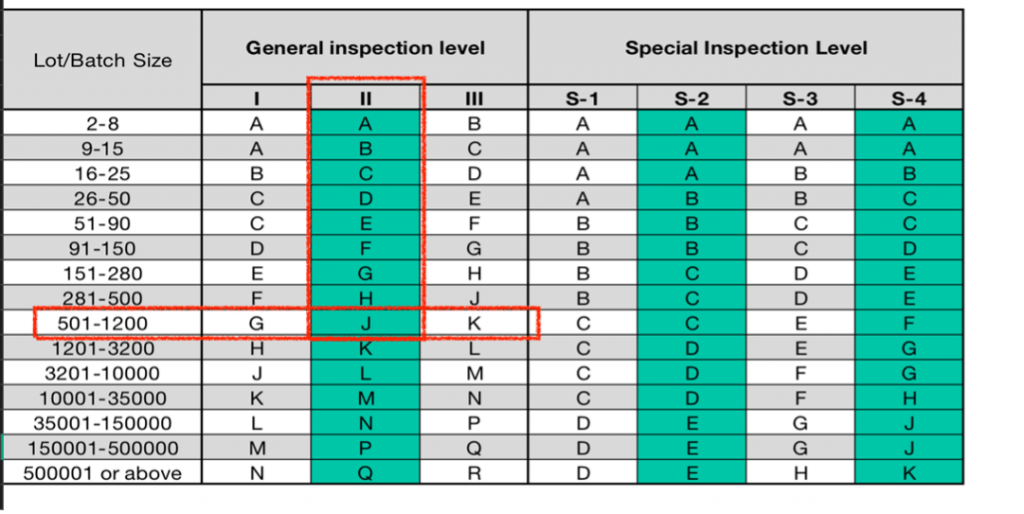 Product against Specification 
In order to be able to correctly check products, importers will provide CAD drawings, approved sample, or other reference materials to use as reference. Your checklist should not only indicate appendix materials but also list all specifications that you wish the inspector to check.
Typically, a checklist will cover the following:
Item weight
Item dimensions
Item color
Item marking and labelling
General appearance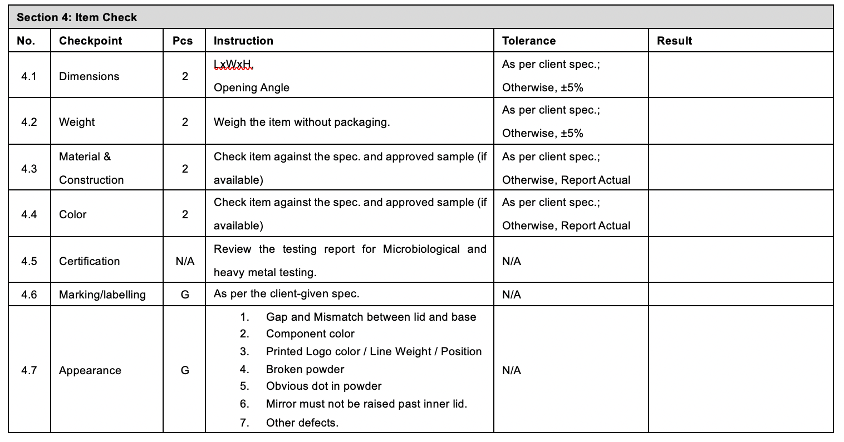 Packaging Requirements
Some importers might feel that packaging is not as important as the product itself, so this aspect tends to be overlooked.
The truth is, even though visual issues with packaging are not difficult to spot, the more specific details of packaging can be easily missed if they are not included in the checklists.
For instance, if you need carton packaging for your product and the inspector does not report that the carton is single-ply instead of double-ply, the packaging might not be strong enough to carry the weight of your product, which could lead to damaging it to the point of being unsellable.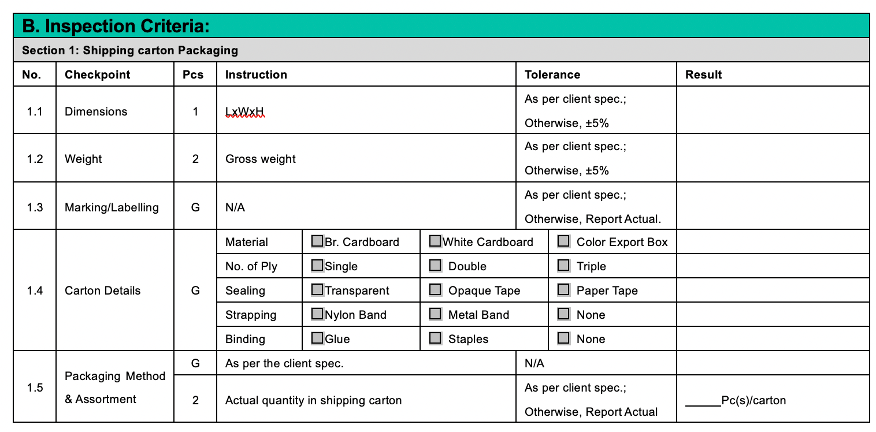 Quality Defects
Each product has its own set of quality defects unique to its type. For example:
·      Flash – defect known for injection-molded products
·      Untrimmed seams – defect known for fabric related products
·      Scratches – common defects for most products
If there is no defect classification in your checklist, the inspector will most likely determine the defects based on his experience, which could of course differ from the importers' expectation. 

There are 3 different defect categories: Critical, Major, and Minor. Inspectors will use this range to determine the defect severity. 
For example: 
The above image is from a checklist based on a cosmetic product. A broken mirror is considered as critical defect, since it could harm to the user. And so, even if 1piece out of 80 pieces has such defect, the whole shipment would be considered as fail.
 We advise discussing with inspectors what limits you expect when it comes to tolerance towards defects. For instance:
·      Untrimmed threads on a bra – How long or how short of an untrimmed thread is acceptable. 
·      Scratch marks on a pot – how long or how deep of the scratch mark is acceptable.
Defects do vary as the production chain continues, so the importer's feedback plays a key role in developing an effective defects checklist.
·      Constantly updating your checklist to reflect the defects found in every inspection.
·      Justify and classify each defect according to your customers' expectations.
On-Site Product Testing
The visual characteristics of the product are of course important, but its functioning should not be overlooked. On-site product testing will ensure that your product matches the standards when it comes to safety, function, and performance. 
Let's use as an example this case study – POS Terminal with client embedded software:
·      Click on client app
·      Scan item barcode
·      Price reflected
·      Swipe credit card for payment 
If instructions were not clear and instead of swiping the credit card the inspector had inserted the credit card for payment, it would have shown a software failure. The product would have been classified as a defect and not be approved for shipment. 
Another example would be a bottle of water:
·      Fill water into the bottle
·      The lid must fit correctly and tightly onto the bottle
·      Flip the bottle to sit on its lid
for this product, fitting test and function testing would be needed to verify that leakage is not an issue.
Depending on how you hired your inspector to conduct the inspection, on-site testing could be based on *GI/GII/GIII* criteria or on special instructions "S1 – S5". This is where time-consuming tests are still being tested using a smaller amount of sample sizes.
For example – Water bottle
Fill water into the bottle
The lid must fit correctly and tightly onto the bottle
Flip the bottle to sit on it lid
A fitting test and function testing are needed to verify that leakage is not an issue.
Depending on how you hired your inspector to conduct the inspection, sometimes not all on-site testing is based on *GI/GII/GIII*, they could be based on special instruction "S1 – S5". This is where time-consuming tests are still being tested using smaller amount of sample sizes.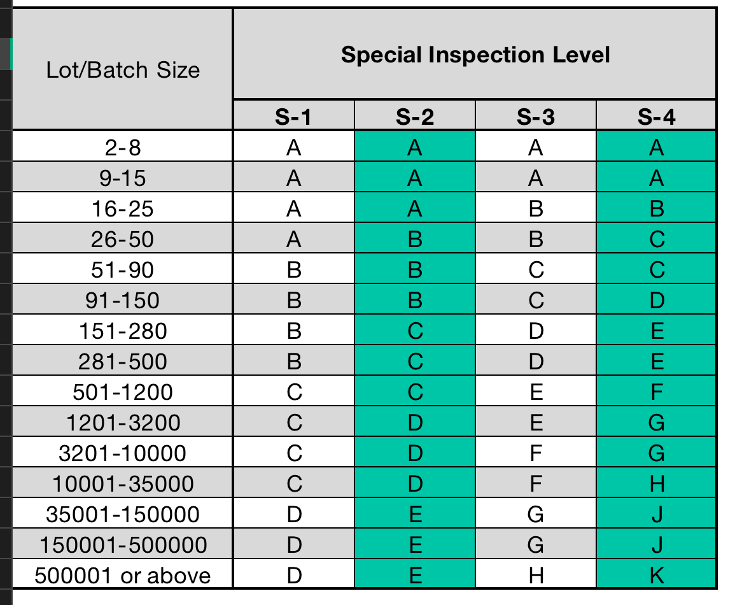 Equipment needed for product testing
It is not rare that importers forget to address the testing equipment needed for the inspection. Some would assume that their supplier and QC team will work out the testing equipment if they are familiar with the product. 
Even though inspectors bring few essential tools with themselves for the inspection, such as calipers, measuring tape, laptops, barcode scanners, and others, taking for granted that the supplier and QC team will know the specific testing tools will most of the time result in not having the needed equipment available on-site during the inspection. 
When there is specific equipment that a factory must provide, the QC team will call and arrange ahead to ensure that the factory is able to provide them. 

If you were at your supplier's factory inspecting your order, you would want to check certain aspects of your products. If you are not available to be on-site for every order, you want others to review your products exactly as you would. So, by coming up with a quality control checklist, your inspectors will fully understand your quality requirement.